---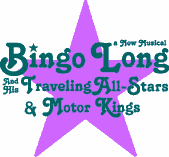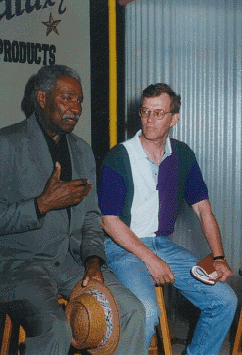 October 17 thru November 23, 1997
A World Premiere!
Based on the best selling novel by William Brashler, this story was also presented as a major motion picture starring Billy Dee Williams, James Earl Jones and Richard Pryor. The book is by Ossie Davis and Hy Gilbert with music by George Fischoff and lyrics by Hy Gilbert.
Bingo Long ... gives us a slice of American history, telling the story of life in baseball's Negro League in the late 30's, with charm, wit, humor and drama . . . and a musical style that is authentic to the period.
DreamStreet is fortunate to have obtained the services of Mr. Ossie Davis as a consultant to the production which will take place in the fiftieth anniversary year of Jackie Robinson's breaking major league baseball's color barrier. It is one of the few mainstage musicals with a baseball theme (Damn Yankees was the first).

OSSIE DAVIS AND BILL BRASHLER
AT DREAMSTREET THEATRE & CABARET
RETURN TO DREAMSTREET'S MAIN PAGE