---
DreamStreet is an enterprise of Glenbardan, Inc., founded by Barry M. Wolk, M.D. (Director of Obstetrics and Gynecology at Christ Hospital, Oak Lawn); Daniel E. Griffin, a Blue Island contractor; and Glenn Z. Hering, a Loop attorney.
All three have been involved in various aspects of theatre for many years, and shared a vision that the south and southwest sides of ChicagoLand are under-represented by professional theatres. Committed to providing a playhouse with top quality comfort, lighting, sound and accessibility, they chose the Lyric Theater in Blue Island as the home of DreamStreet. Served by Metra, convenient to both I-294 and I-57, and with ample free parking, the Lyric was built in 1917 and had stood vacant for most of the last 20 years.
The building was secured on March 1, 1996, funds were raised from investors and work commenced on June 1, 1996.
DreamStreet boasts a 42' wide thrust stage, lighting by DesignLab Chicago, and state-of-the-art UHF wireless sound by Bridgewater Custom Sound. Fixed auditorium seating is for 208, and the cabaret levels (tables and chairs) can accommodate up to 100. DreamStreet offers full bar service and gourmet snacks.
DreamStreet's full-time staff includes Kimberly L. Simari, Theatre Administrator, with a Bachelor's Degree in Theatre Arts. The Theatre Manager is Wayne O. Wendell, with 15 years of performing and production related experience.
In addition to its main-stage season, DreamStreet will be presenting a Children's Theatre series, a New Playwrights' Series (focusing on local authors and works relevant to various elements of the community, including Hispanic and African-American related works); and numerous special events, including jazz nights, cabaret entertainment, comedy nights, etc.
For more information contact Kimberly L. Simari, Theatre Administrator at (708) 371-5282.
The DreamStreet Theatre & Cabaret Lobby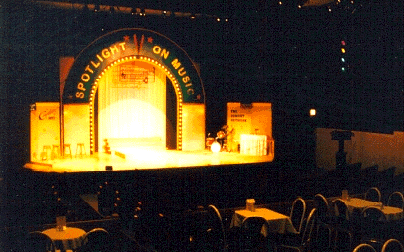 A View of the set from The Taffetas
Outside DreamStreet Theatre & Cabaret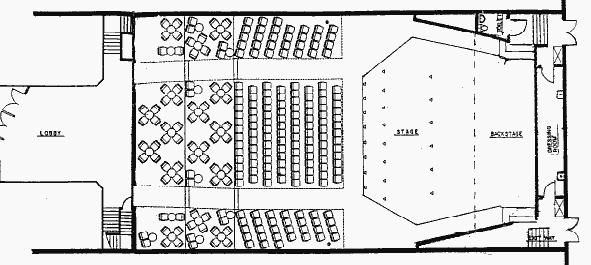 THE DREAMSTREET THEATRE & CABARET FLOOR PLAN
CHECK OUT SOME DREAMSTREET PHOTOS
BACK TO DREAMSTREET'S MAIN PAGE